Fern Grotto Tours on Kauai
Dear Valued Customers,
To prevent the spread of the COVID-19 virus, Hawaii's State Parks have closed indefinitely. The Smith Family Garden Luau and Smith's Wailua River Tours are therefore closed until the State Parks reopen.
Anyone that booked direct with Smith's will be given refunds for the time period that we are closed. For those that booked their reservation through a third party, you will need to contact your booking agent to secure your refund.
If you have any questions, please email us at smiths@aloha.net or call us at 808-821-6895.
Kamika Smith
General Manager
---
A Journey of Songs and Legends

Tour Kauai's Famous Fern Grotto with Smith's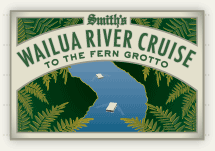 Sharing Songs and Legends of the Wailua River Valley is a Family Tradition. In 1946, Walter Smith, Sr. and his wife, Emily, started our family business with a small rowboat and a borrowed outboard motor. Four generations later, we continue Grandpa's tradition of sharing our love of Kauai and its rich cultural heritage.
During the two mile river journey, you'll hear songs and stories of ancient Hawaii — like the King's Highway, sacred Mount Kapu, and the First Hau Tree. In addition, guests enjoy learning the hula during a lesson provided by one of our cousins. Everyone gets into the act during the river cruise!
Smith's famous Wailua River cruise boats are powered by an ingenious rear-engine system invented by Walter Smith, Sr. The spacious, open-air boats provide excellent views from either side during the trip upstream.
The Wailua River is known as "the only navigable river" in all Hawaii. The river's fresh water pours down from Mt. Wai'ale'ale, one of the wettest spots on the planet. Lands along the river were the sacred capital of ancient Kauai and the birthplace of the island's ali'i, or royalty.
At the Fern Grotto landing, you'll enjoy a short nature walk through the rainforest to the lush Fern Grotto.
The Fern Grotto is a geological wonder of Kauai. Ferns grow upside down from the roof of the grotto, which was formed millions of years ago. Native Hawaiian plants and colorful exotic tropical plants provide a rain-forest atmosphere.
The entire tour takes one hour and 20 minutes round-trip.
---
Watch Video Highlights of the Wailua River Cruise
---
---
Tour Schedule
Boat tours depart daily from the Wailua Marina State Park at 9:30 A.M., 11:00 A.M., 2:00 P.M. and 3:30 P.M.
If you are going to the luau after the boat tour, select the 3:30 P.M. time.
Need help finding Smiths?
Click for maps and driving directions:
Directions