Kauai Botanical Gardens
Aloha from Kauai!
The Smith Family Garden Luau, Wailua River Tour to the Fern Grotto and the Family Gardens are temporarily closed until further notice. We are working on a plan with the guidance of our State and Local authorities to determine an opening date. (We hope to open in November.)
Travel restrictions to Hawaii along with potential spread of the COVID-19 virus in Hawaii were key factors in our decision as we protect the well-being and safety of our guests, our family and our community. We appreciate your understanding and support.
Due to uncertainty related to this event, reservations made through October, 2020 are subject to change.
Guests who have already purchased your tickets for our family's attractions during the closure period will receive a full refund or be rescheduled to a later date of their preference. Please email us at smiths@aloha.net or call us at 808-821-6895 to cancel or reschedule. Guests who have booked through an outside vendor will need to contact the supplier directly to receive a refund. All reservations that are not exchanged or cancelled while we are closed will be automatically refunded within a few days of the activity date.
Mahalo, Kamika Smith, General Manager
---
A Tropical Oasis in the Heart of Wailua

Smith's Tropical Paradise in the Wailua River Valley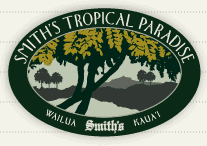 This lush 30-acre botanical and cultural garden provides an idyllic escape to enjoy Mother Nature's creations. The garden is centrally located on the east side of Kauai, known as "The Coconut Coast," within the Wailua Marina State Park. Only minutes from the main highway, but far removed from traffic noise, this beautiful location is perfect for an afternoon picnic or garden stroll, and is home to Kauai's most popular luau.
Take your time and wander over a mile of meandering pathways surrounded by tropical splendor. You'll explore the quiet, serene atmosphere of this paradise where peacocks and many other birds thrive in the lush surroundings.
View over twenty types of fruit in the Tropical Orchard including breadfruit, star fruit, jackfruit, macadamia nuts and soursop. Wander the Bamboo and Fruit forests or enjoy the colorful attraction of the Flower Wheel and Flowering Tropicals areas. Set amidst this natural backdrop are replicas of Polynesian and Filipino huts. The Japanese-themed garden island is a popular location for those who choose to get married in the gardens.
Whether you spend a quiet afternoon enjoying the scenery, or a quick look around before experiencing the Smith Family Garden Luau, you're sure to remember your time in paradise!
Entry Prices
Adults $10
Children (3-12) $5
*Tax included. Tickets available at the park entrance.
Garden Schedule
Open Daily 8:30am-4:00pm
Need help finding Smiths?
Click for maps and driving directions:
Directions