Kauai Botanical Gardens
Aloha from Kauai!
Travel has recently been reinstated to the Islands of Hawaii and visitor attractions and activities are slowly reopening on Kauai. There are still rules for travel to Hawaii that need to be followed as we protect the well-being and safety of our guests, our family and our community. We appreciate your understanding and support during the reopening phase of the island. For travel information to Hawaii, please visit the following website.
Our family plans to gradually reopen our activities over the next few weeks. CDC protocols will be in place to ensure the health and safety while we deal with the COVID pandemic. Face covering/mask, social distancing and hand hygiene protocols will be in place in order for our activities to take place. If everything goes as planned, we will be offering our activities as follows:
Wailua River Tour to the Fern Grotto:
Wednesday and Saturdays (Starting November 11, 2020)
9:30am, 11am, 2pm and 3:30pm departures
Reservations highly recommended due to limited capacity per tour
Smith's Tropical Paradise Gardens:
Open on Wednesday and Saturdays (Starting November 11, 2020)
From 8:30am until 4pm (last entry at 3pm)
Self-guided tour of open air 30-acre garden. Purchase tickets at garden entrance
Smith Family Garden Luau:
Monday, Wednesday and Friday evenings (Starting November 23, 2020)
Dependent on government approval of operations for large gatherings with CDC protocols in effect. Reservations required due to limited capacity
Please note that things change quickly and if you are not able to travel to Hawaii at the last minute, if our local authorities change travel restrictions or if we are unable to provide the activity for any reason, we will inform you as soon as possible of the cancellation. You may choose to reschedule if possible or receive a full refund.
Please stay aware of the current situation of travel to Hawaii, be safe and stay healthy! Additional information on the COVID safety measures that we put in place will be provided in the near future on this website as well as in emails/texts that we will send to you as your date of visit gets closer.
Aloha, Kamika Smith, General Manager
---
A Tropical Oasis in the Heart of Wailua

Smith's Tropical Paradise in the Wailua River Valley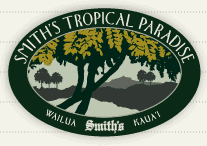 This lush 30-acre botanical and cultural garden provides an idyllic escape to enjoy Mother Nature's creations. The garden is centrally located on the east side of Kauai, known as "The Coconut Coast," within the Wailua Marina State Park. Only minutes from the main highway, but far removed from traffic noise, this beautiful location is perfect for an afternoon picnic or garden stroll, and is home to Kauai's most popular luau.
Take your time and wander over a mile of meandering pathways surrounded by tropical splendor. You'll explore the quiet, serene atmosphere of this paradise where peacocks and many other birds thrive in the lush surroundings.
View over twenty types of fruit in the Tropical Orchard including breadfruit, star fruit, jackfruit, macadamia nuts and soursop. Wander the Bamboo and Fruit forests or enjoy the colorful attraction of the Flower Wheel and Flowering Tropicals areas. Set amidst this natural backdrop are replicas of Polynesian and Filipino huts. The Japanese-themed garden island is a popular location for those who choose to get married in the gardens.
Whether you spend a quiet afternoon enjoying the scenery, or a quick look around before experiencing the Smith Family Garden Luau, you're sure to remember your time in paradise!
Entry Prices
Adults $10
Children (3-12) $5
*Tax included. Tickets available at the park entrance.
Garden Schedule
Open Daily 8:30am-4:00pm
Need help finding Smiths?
Click for maps and driving directions:
Directions