Smith's Kauai Luau
Dear Valued Customers,
To prevent the spread of the COVID-19 virus, Hawaii's State Parks have closed indefinitely. The Smith Family Garden Luau and Smith's Wailua River Tours are therefore closed until the State Parks reopen.
Anyone that booked direct with Smith's will be given refunds for the time period that we are closed. For those that booked their reservation through a third party, you will need to contact your booking agent to secure your refund.
If you have any questions, please email us at smiths@aloha.net or call us at 808-821-6895.
Kamika Smith
General Manager
---
"Best Luau on the Island"

The Ultimate Kauai Guidebook: Kauai Revealed, 5th Edition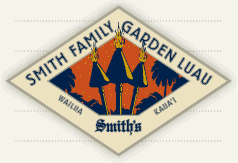 Aloha! Over 50 years ago, Grandpa started our family business in this sacred Wailua River Valley. We created our tropical paradise to celebrate the Hawaiian spirit of aloha that he loved and lived by. Today, four generations of my family continue to honor that tradition with the most famous of Hawaiian celebrations, the luau. Come share the traditions of our island home and become part of our 'ohana.
Of course, the heart of any luau is the pa'ina, the feast, and we'll make sure you don't go hungry. Kalua pig roasted in the earthen imu oven. Cousin Gary's secret recipe for teriyaki beef. Ono mahimahi and tasty chicken adobo. Our family bowl of poi (which Grandma insists you try). We'll even get some of you up on stage to try some hula moves as dinner winds down.
Food may be the heart of a luau, but music is the soul. Our Hawaiian ancestors preserved their history by passing down songs and chants called mele. At our luau, we celebrate these traditions, as well as the songs and dances from other cultures that live in our tropical paradise. The lyrical sway of the Hawaiian hula, the colorful precision of the Tahitian drum dances and the fiery emotion of the Samoan fire knife dance all speak deeply of the people who have come to call Hawaii home. We proudly share this rhythm of aloha with you.

Kamika Smith
General Manager / Vocals / Ukulele
---
Watch Video Highlights Family Garden Luau
---
Smith Family Garden Luau Schedule
NOTE: November through February, schedule starts 15 minutes earlier.
5:00 P.M. :: November through February: 4:45 P.M.
Welcome — Join us in paradise near the sacred Wailua River, a place once reserved for Hawaiian royalty. Receive your shell lei and either take a narrated tram tour or a leisurely stroll around the lush 30-acre gardens (last tram tour departs at 5:30 P.M., November through February: 5:15 P.M.)
6:00 P.M. :: November through February: 5:45 P.M.
Imu Ceremony — Meet some of our family members and learn of the Hawaiian cooking method called Kalua — where Kalua pig is wrapped in ti leaves and cooked to perfection in our earthen imu oven.
6:15 P.M. :: November through February: 6:00 P.M.
Cocktails & Music — Have a mai tai, beer, or glass of wine at the open bar while the Smith family entertains with Hawaiian songs. (Soft drinks and juice are also available.)
6:30 P.M. :: November through February: 6:15 P.M.
Luau Feast — The music continues while you enjoy traditional flavors and island favorites like kalua pork, beef teriyaki, chicken adobo, and sweet'n'sour mahimahi. Sample our ono local specialties like lomi salmon, fresh poi, Hawaiian sweet potato, mac salad, namasu salad and scrumptious tropical desserts!
8:00 P.M. :: November through February: 7:45 P.M.
Rhythm of Aloha Show — Move to the rhythm with colorful, authentic performances from Hawaii, Tahiti, Samoa, Philippines, New Zealand and Japan in our spacious open-air, torch-lit "Pele Amphitheater" (complete with erupting volcano!).
---
---
Already have dinner plans?
You can still reserve "show only" tickets online by clicking here. Gates open at 7:30pm (November through February: 7:15 P.M.) for those who would like to only attend the show.
Adult
$108.00
Jr. (7-13) $35.00
Child (3-6) $25.00
Buy Tickets!
Luau Schedule
Seasonal Schedules
November - January:
Mon | Wed | Fri
February - October:
Mon | Wed | Thu | Fri
June - August:
Mon | Tue | Wed | Thu | Fri
Seasonal Start Times
November - February:
4:45 P.M.
March - October:
5:00 P.M.
NCL – Pride of America Guests
Your ship is usually scheduled to overnight on Kauai on Thursday night. We operate our family's luau on "ship nights" from February through October.
Transportation from Pride of America is available for the luau at a cost of $18 per person. Choose "Pride of America" when booking your reservation to make the transportation option available. Taxi fare is approximately $25 - $30 each way.
Need help finding Smiths?
Click for maps and driving directions:
Directions